Having travelled down by train to Westminster, arriving at lunchtime, I spent the afternoon and evening catching up with parliamentary business following the Festive Season. There were hundreds of emails, letters, invites and documents, most of them involving issues constituents wanted me to help them with: the most important part of my job as a MP.
Meanwhile, my column appears in The National newspaper every Monday.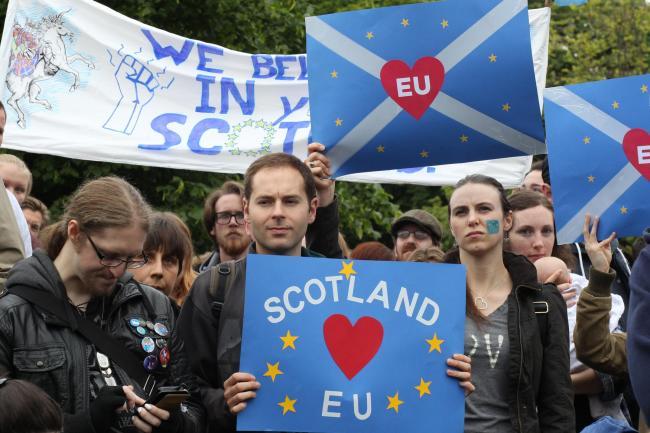 Time to inspire, not play it safe ... what kind of society could we create?

THIS Saturday sees the Scottish Independence Convention reconvene at the Radisson Blu Hotel in Glasgow. It's already a sell-out, but the national movement needs to do more than huddle together for warmth or pick over the embers of the 2014 referendum campaign. It's time for some bold new thinking. What are the options?

Strategy #1 is of course that of the First Minister: namely, to pressure the Conservative government to grant Scotland's democratic wish to stay in the single market or face a second independence referendum. This plan is premised on winning over those who voted No in 2014 thinking it would keep Scotland inside the EU. If Mrs May concedes and Scotland gets a special EU deal, including even more devolved powers for Holyrood, it will be good for the Scottish economy and leave Nicola in a strong position should the Tories win a likely UK General Election victory in 2020.

Alternatively, if no single market deal is on offer, the thinking is that enough of the 2014 No voters will change their minds and come on board in an indyref2 circa 2018 or 2019.

To read the full article click HERE

http://www.thenational.scot/comment/15009804.George_Kerevan__Time_to_inspire__not_play_it_safe_____what_kind_of_society_could_we_create_/

My morning was taken up with the Treasury Select Committee, where we interviewed three guests from the City of London on UK's future Economic Relationship with EU: Xavier Rolet, chief executive of the London Stock Exchange Group, Douglas Flint, HSBC chairman and Elizabeth Corley, vice-chair of Allianz Global Investors.

They warned of job losses in the UK's financial sector, as banks tranfer staff to Paris or Dublin, and called for a transition period before the UK finally leaves the EU.

You can watch the proceedings HERE

At lunchtime I attended a lunch hosted by the Chartered Institute of Taxation, which helps me keep abreast of financial matters I have some responsibility to oversee. Later I attended the SNP MP's Economics Group and then a full meeting of all our MPs to discuss strategy.

In between I met with Lord Cromwell, John Howell MP & Heather Buchanan to discuss the upcoming AGM of the All-Party Parliamentary Group for Fair Business Banking, of which I am chair.

.

In addition I attended the founding meeting of the All-Party Parliamentary Group on Alternative Investment Management.

In East Lothian small businesses play a vital role in our community, so it was a pleasure to attend the launch of its Small Business Index by the Federation of Small Businesses . I will continue to work with my colleagues on improving conditions for this important sector of our economy.

In the afternoon I attended the Treasury Select Committee, where our guest, the Governor of the Bank of England, was reporting on the  Financial Stability Report. He argued that Brexit was not the biggest danger facing the UK economy but instead rising levels of debt.

You can watch the meeting HERE

Later in the day a  large number of constituents had asked me to attend the Open Doors launch of World Watch List in defence of persecuted Christians, which took place in the Palace of Westminster, and I was very happy to do so.

Here I am, pictured at the launch.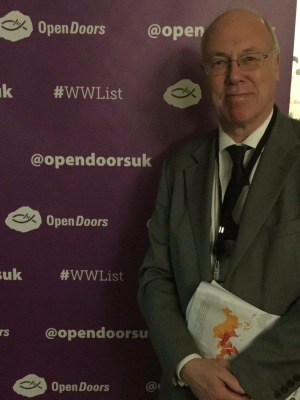 In the evening I hosted the parliamentary launch of Christians Against Poverty's latest report, alongside the Financial Inclusion Commission. Over 50 senior representatives from the credit and debt advice industries and MPs were in attendance
The freedom report looks at the outcomes of over 200 clients who have become debt free through Debt Management Plans (DMPs) and Debt Relief Orders (DROs) up to five years ago. The findings show the important role debt advice plays in building financial capability and resilience, ensuring that people feel in control of their finances and stay free of problem debt in the long-term.
Caroline Rookes CBE, Chief Executive of the Money Advice Services, said, 'Christians Against Poverty embodies the combination of empathy and expertise that is essential to providing effective support to people with problem debt. This report spells out the impact that getting free, high-quality advice has on improving financial capability and avoiding debt problems recurring.
'The data collated in this report echoes the impact of debt advice services across the country in helping people to reduce their debts, take control of their finances and start planning for the future.'
The freedom report is available to read in full HERE
https://capuk.org/connect/policy-and-government/the-freedom-report

First thing I met Robin Feith, Chair of the Building Societies Association, to discuss the UK domestic financial sector following Brexit.

I then met with my colleage Michelle Thomson MP to discuss the All-Party Parliamentary Group on Fair Business Banking.

The Minister for Transport took questions in the Chamber of the House of Commons later and I took the opportunity to question him. I said, "Brexit will cause a dangerous free-for-all in cabotage. Will the Minister agree to meet the Scottish Government to consider how to avoid that?"

You can watch the exchange HERE

While, naturally our humanitarian concern has been focused on the horrors of Syria, there is another equally bloody civil war taking place in Yemen, one in which regional powers have become involved. SNP MPs have taken the lead in questioning how it is British arms have been used in the Saudi bombing campaign inside Yemen, which has inflicted countless civilian casualties, and why arms exports have not been halted.

Today I took part in a debate on the humanitarian crisis in Yemen and the UK's lack of response, asking in particular why it does not stop arms sales and pressurise Saudi Arabia to end the bombing.

You can watch the encounter HERE

On Thursdays my weekly column in the East Lothian Courier is published. You can read it below by scrolling down on the right-hand side.
A morning in Musselburgh, starting with a breakfast meeting - very chic - at the warm and welcoming Brunton Cafe, where Tomasz Sidor, UK Chief Executive of Eco Ready Houses, wanted to introduce me to his Managing Director and Production Manager.

They had come over from Szczecin to look at possibilities for building in East Lothian, and, along with the Managing Director of their UK building company, Capital Construction, had already met with Cllr. John McMillan at East Lothian Council.

I was very impressed by their professionalism and skill, and am looking into sites for them to develop,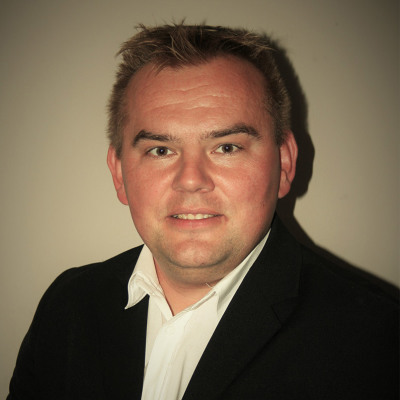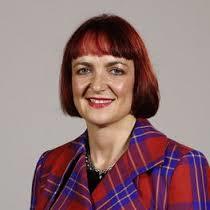 Then on to Musselburgh East Community Learning Centre for a very serious meeting on Planning Law Reform, which brought together representatives of Haddington and District Amenity Society and Musselburgh Conservation Society with Colin Beattie MSP, Cllr. John Williamson and myself.

We agreed that insufficient importance is being given to Planning, both by the Scottish Government and East Lothian Council. Colin Beattie is arranging a meeting with Angela Constance, Cabinet Secretary for Communities, Social Security and Equalities, within whose portfolio it sits.
Meanwhile, Linda Shaw Stewart and Andrew Robinson respectively will be contacting Community Councils and local amenity groups, asking them to make their views known in advance of the 4 April deadline for the Scottish Government's consultation paper on Places, People and Planning.
We agreed to discuss the matter further on 10 March.
A quick visit to the Musselburgh Farmers' Market, now in full swing, and on to my surgeries in Musselburgh, Port Seton and Haddington. It was a busy afternoon, and I was soon running late. But the constituents waiting to see me were very patient. Thank you.
Up early for the train through to Glasgow for the Scottish Independence Convention, for which I managed to get one of the last tickets. Some great speeches from Convenor Elaine C. Smith - as you would expect - from Angela Constance MSP, Tommy Sheppard MP, Maggie Chapman of the Greens, Ben Wray of Common Weal and my old friend Jim Mather of the Growth Commission.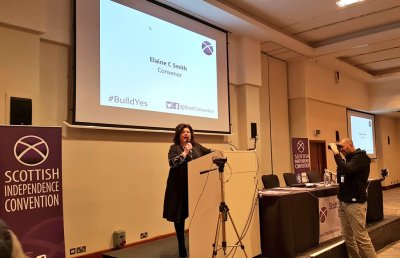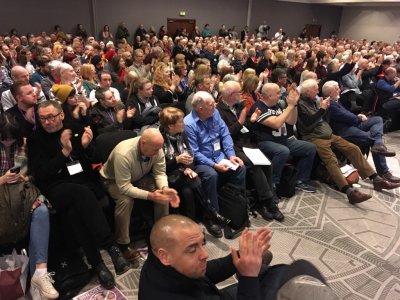 Home to write my 'Immortal Memory' for the evening's Burns Supper, secure in the knowledge that I would get my tea.

Thanks to the organisers, Dave and Isobel, to the servers, Jodie and Charlotte, and to the musicians, Lewis and Coll.

Here I am, in full flight!

And this is just the first Burns Supper of three - Edinburgh, Musselburgh and Longniddry.
Watch this space.